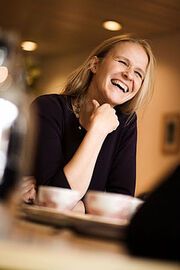 Cornelia Funke, born Cornelia Caroline Funke, is the German award-winning author of the
Inkheart Trilogy
books. She was born on December 10, 1958 in Dorsten, North Rhine Westphalia. Many of her books have been now translated into English that made her popular world wide.
Early Life
Edit
Cornelia Funke was born on December 10, 1958 inDorsten, North Rhine Wetsphalia. She studied pedagogy at the University of Hamburg even if she dreamed to be an astronaut or a pilot when she was a child. After she finished her studies, she worked as a social worker for three years focusing on children's background. She made illustrations for books before, until she had been a writer of her own and get inspiration from the children's short stories. During the late 1980's and 1990's, she established herself in Germany with two children's stories, the Gespensterjäger or Ghosthunters, and the Wilde Hühner or Wild Chicks. She first known worldwide from her fantasy novel Dragon Rider (1996), that stayed 78 weeks in the bestseller list in the New York Times, and then again in 2000/2002, her book the Thief Lord ranked #2 in bestseller list in 15 weeks and sold 1.5 million copies worldwide. She then wrote the very her popular trilogy, the Inkheart (2003), which won an award for being the 2004' BookSense Book of the Year Children's Literature award. Inkheart was followed by Inkspell (2005) that won the same award again on 2006. Then the very last series of the trilogy, Inkdeath (2007) was released, English version on Spring 2008, and American version on fall 2008.
1998 Kalbacher Klapperschlange for Drachenreiter
2000 Wildweibchenpreis for her collected works
2000 La vache qui lit for 'Herr der Diebe'
2001 Kalbacher Klapperschlange for Herr der Diebe
2001 Preis der Jury der jungen Leser for Herr der Diebe
2002 Evangelischer Buchpreis for Herr der Diebe
2003 Corine for Herr der Diebe
2003 Mildred L. Batchelder Award for Herr der Diebe
2003 Nordstemmer Zuckerrübe for Kleiner Werwolf
2004 Preis der Jury der jungen Leser for Tintenherz
2004 Phantastik-Preis der Stadt Wetzlar for Tintenherz
2004 Kalbacher Klapperschlange for Tintenherz
2004 Book Sense Children's Literature Award (Children's Literature Honor Books) for Inkheart
2005 Time Magazine's 100 Most Influential People
2006 Book Sense Book of the Year Children's Literature Winner for Inkspell
2006 Sakura Medal by the International Students of japan for Dragon Rider
2008 Roswitha Prize
Personal Life
Edit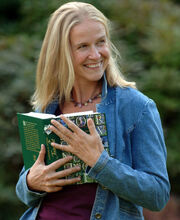 Funke married
Rolf Funke
, a printer, in 1981. Then Funke had two children,
anna
(1989), and
Ben
(1994). The Funke family lives now in Los Angeles, california.
Funke's trilogy
Edit
Funke's novels
Edit
Funke's picture books
Edit