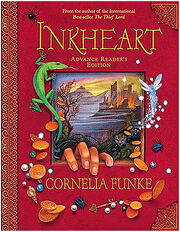 Inkheart
is the very first volume of the
Inkworld
trilogy, written by
Cornelia Funke
then published by
Dressler Verlag
on 2003 in Germany as "Tinterhertz", and by
Chicken House
on 2003 with english translation in United Kingdom as Inkheart.
Both book and motion picture were released under it's english name, "Inkheart".
Dedication
Edit
"For Anna, who even put The Lord of the Rings aside
for a while to read this book.
Could anyone ask more of a daughter?
And for Elinor, who lent me her name,
although I didn't use it for an elf queen.
Cornelia dedicated her book for two females, for Anna, her daughter, and for Elinor.
Book Description
Edit
"One cruel night,Meggie's father reads aloud from
Inkheart, and an evil ruler named Capricorn escapes
the boundaries of the book, landing in their living
room. Suddenly, Meggie in the middle of the kind of
adventure she thought only took place in fairy tales.
Somehow she must master the magic that has conjured
up this nightmare. Can she change the course of the story that has changed her life forever?"
Book Chapters
Edit
A Stranger in the Night
Secrets
Going South
A House Full of Books
Only a Picture
Fire and Stars
What the Night Hides
Alone
A Poor Exchange
The Lion's Den
A Coward
Going Farther South
A Mission Accomplished
Good Luck and Bad Luck
Once Upon a Time
The Betrayer Betrayed
Treasure Island
Gloomy Prospects
Snakes and Thorns
In Safety
A Night Full of Words
The Wrong Ending
Shivers Down the Spine and a Foreboding
A Good Place to Stay
Going Home
Only an Idea
Talkative Pippo
In the Hills
Back Again
Capricorn's Secrets
Different Aims
In Capricorn's House
Carelessness
A Quiet Voice
The Punishment for Traitors
The Black Horse of the Night
A Furry Face on the Windowsill
A Dark Place
Farids Report
Telling Lies to Basta
Woken in the Dead of Night
Alone
The Magpie
Bastas Pride and Dustfinger's Cunning
No Luck for Elinor
A Narrow Escape
A Fragile Little Thing
The Right Words
Treachery, Loose Talk, and Stupidity
A Deserted Village
Homesickness
Going Home
Characters
Edit
The Shadow had summoned by Silvertongue and Meggie so that it's not clear who really killed them, if The Shadow really is, or the summoner.
Cornelia Funke's Inkheart Trilogy
Edit
Funke's Other Books
Edit