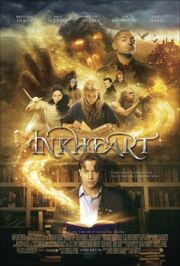 Template:Notininkworld
Template:Filminfobox
The film version of
Inkheart
was the first film adaptation in the
Inkheart Trilogy
. It starred
Brendan Fraser
as
Mortimer Folchart
,
Eliza Bennett
as
Meggie Folchart
,
Paul Bettany
as
Dustfinger
,
Helen Mirren
as
Elinor Loredan
,
Andy Serkis
as
Capricorn
, and
Jim Broadbent
as
Fenoglio
and was directed by
Iain Softley
. The film was first stated to released on May 19, 2008 but had been pushed to December 12, 2008 in Uk, and January 23, 2009 in the US.
Production
Edit
Shortly after Cornelia Funke published her book, she sent a copy of Inkheart with a letter to Brendan Fraser saying that he was her inspiration for her character of Mortimer Folchart
The director itself announced that it will be Brendan Fraser who'll be the official actor to portray Mortimer Folchart in the film.
Inkheart was filmed at Shepperton Studios near London, England and on location in Balestrino, Albenga, and Laigueglia, Italy, in 2006 and 2007.
Reception
Edit
Negative Response
Edit
Rotten Tomatoes--40 reviews for "Fresh" and 67 reviews for "Rotten"
RT Community--62% rating
Kirk Honeycutt--Dislike
Box Office hit
Edit
The film grossed $2,110,000 during its opening day in 2,655 theaters. It opened at #7 at the domestic box office with $7,725,000, with a worldwide gross of close to $13 million.
Differences
Edit