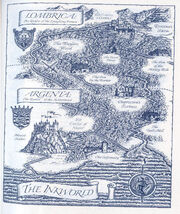 Inkworld
is a world where the life of ink-and-pen-made living things live. The Inkworld is divided by two,
Lombrica
in north, and
Argenta
in south. The Lombrica is lead by
The Laughing Prince
, and Argenta is lead by
The Adderhead
. The
Lombrica
occupies the three-quarters of the
Wayless Wood
while the
Argenta
have the whole sea.
Lombrica places
Edit
Argenta places
Edit
Apperances
Edit